WAKE UP AMERICA !


Welcome Fellow Humans.
It is my intention to provide information from various sources that will give you the news and information that you do not get to hear about from the mainstream media.
Not everything that you read about in newspapers, or see on TV, is actually true, and much of it is more disinformation than information.
The people who control your lives...or as they would put it...'inform' you of what's happening in your life...would be much happier if you knew none of this.
It has always been a personal mission in life to peacefully enlighten as many people as I can.
This means YOU.

This Site Has Been Accessed By The U.S. Government


Future topics I hope to cover here when time allows are:
World Events ~ World Peace ~ Conservation ~ Peaceful Coexistence ~ Personal Accountablity ~ Population Growth ~ Water ~


If you have any ideas, comments, thoughts, or statements you'd like to contribute to this page please feel free to post them in the BoardRoom, or just sign my GuestBook!

"It is "NOT" the function of our Government
to keep the citizens from falling into error.
It "IS" the function of the citizen to keep
the government from falling into error."
(U.S. Supreme Court in American Communications v.Douds, 339 U.S. 382, 442)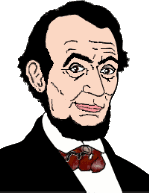 "TO SIN BY SILENCE WHEN THEY SHOULD PROTEST
MAKES COWARDS OF MEN!"
~ Abraham Lincoln ~

Here is a chance to make your voice heard.
I have installed polls on this site which will either have something to do with subjects on this site or of subjects of interest or debate in society.
I will make the results of these polls known to the powers that be. So that they can see what the hard working people of this country REALLY THINK!
If you have any ideas about what poll subjects you would like to see here, post you suggestions in the boardroom.

TO THE POLLS!
PLEASE KEEP THESE POLLS HONEST!

   made in the USA